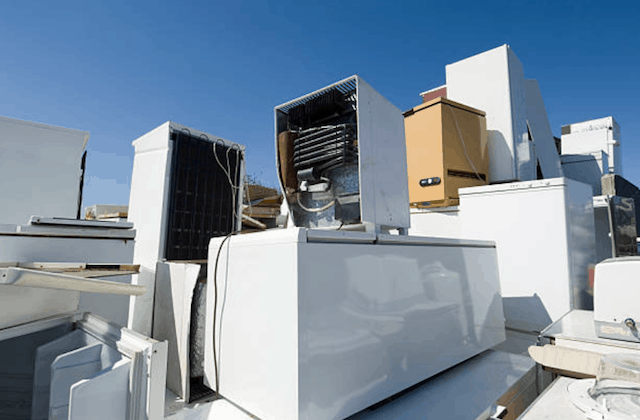 Despite the best attempts from our professional appliance repair service, there comes a time when an old appliance cannot be repaired and will need to be replaced. We recommend purchasing energy-efficient appliances. They are going to be made to save on both water and energy. This is a great choice for your home and the environment, but then you have to figure out what to do with the old one once it has been replaced. Most people are unaware that recycling old appliances is an option because they are made of recyclable metals.
REASONS TO RECYCLE YOUR OLD APPLIANCES
Many of the utility companies around the country will offer their customers a credit for buying new, energy-efficient appliances and for recycling the old one they took out. This purchase will get you a credit with your utility company and save you money in the long run on your energy bill.
Home appliances account for around 10% of the steel recycled every year in the United States because 75% of the machine is made up of steel. Steel is the most recycled material in the United States.
Lastly, chlorofluorocarbons (CFCs) are a major contributor to the depletion of the ozone layer. Refrigerators and air conditioners use fluorocarbons to chill the air in these appliances and these chemicals are released from old appliances that sit in a landfill. Recycling allows these chemicals to be disposed of and dealt with in a way that is not harmful to the environment.
RECYCLING PREPARATION
There are certain things that you need to do in order to make sure that your appliance is disposed of and recycled properly.
If you are having a new appliance delivered, you can inquire with the company if they will take away the old appliance. There are some companies that will take multiple appliances regardless of how many you are having delivered.
If the appliance is 5 years old or less and still works, you can definitely consider donating the appliance to community organizations like Habitat for Humanity. They will work to restore these appliances so that they can be used in new housing.
Older air conditions, refrigerators, and freezers have Freon in them. You will need to check and see if the recycler can take care of the Freon, and if not, you will need to find a proper professional who will.
You are going to want to make sure that the appliance is unplugged and defrosted for a few days before it is picked up.
Tape shut any doors or drawers that may come open during transport.
If you are having to remove the appliance from the home, make sure that you are using a dolly because doing it by hand or by yourself can cause major injuries.
You can learn more about trash and recycling in Boston here. To hire a service to remove an old appliance from your home, we recommend 1-800-Got-Junk.
APPLIANCE RECYCLING FAQ
IS THERE COST SAVINGS IN RECYCLING APPLIANCES?
It depends on the appliance. If you have the ability to take it to the recycling center yourself, you could make $20 or more. If it is an appliance with Freon, it may cost you money in order to have the Freon properly removed and disposed of.
CAN I PUT OLD APPLIANCES ON MY CURB?
This is normally a special service and it may require you to schedule a specified collection time and date. They are also going to need to know what type of appliance it is so that they are able to send the right truck and take it to the proper facility.
ARE SOME APPLIANCES MORE VALUABLE THAN OTHERS?
The most valuable appliances are those that are metal and do not contain hazardous materials like Freon. Freon requires a special permit to recycle and thus a special service to do it. Washers and dryers are commonly the most valuable because they are mostly made of metal and there is quite a bit of weight in metal in them. You also have to figure in the difficulty of transport for the given appliance as well.
CAN MY LOCAL UTILITY COMPANY RECYCLE MY APPLIANCE?
It varies amongst companies. Even if they don't recycle them, many of them will offer monetary incentives for replacing old appliances with energy efficient ones. These utility companies are going to be part of what is known as the Responsible Appliance Disposal Program.
WHAT IS FREON AND HOW SHOULD IT BE RECYCLED?
Freon is used as a fluorocarbon in appliances that cool the air like refrigerators, freezers, and air conditioners. The Montreal Protocol was established in 2003 and stated that different cooling refrigerants needed to be utilized. Any appliance made before 2003 is going to need to be recycled in such a way that the Freon is removed professionally. It is illegal to do it yourself and it will need to be removed before it is taken to a recycling facility.
WHAT DOES THE TERM "WHITE GOOD" MEAN?
In the context of recycling, it refers to appliances. This term refers to the white-coated steel that many appliances were made with. The term originated in the United Kingdom.
WHAT IS THE PROCESS FOR RECYCLING APPLIANCES?
First, dangerous materials are removed such as Freon and mercury used in the switches and they are recycled. Then, the machine is shredded down, and a magnet is used to separate the steel from all the other materials like aluminum, tempered glass, and plastics. Lastly, the materials that were left after the steel was taken out are sold off to manufacturers to be recycled in other products.